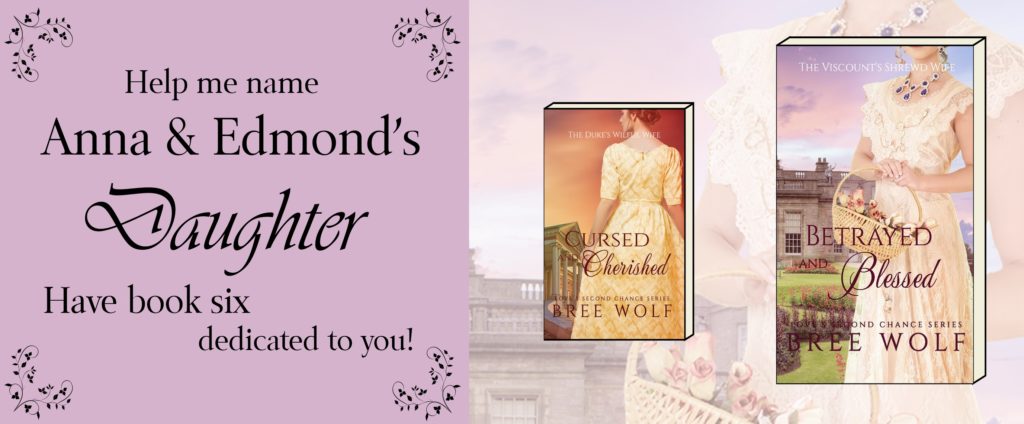 Naming their baby is one of the greatest joys for new parents. As a writer, I often feel like a parent to the many characters I create, and it feels truly wonderful when people you've guided to their happily-ever-after end up becoming parents themselves.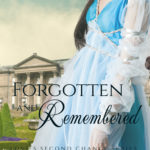 When Rosabel and Graham become parents at the end of Forgotten & Remembered, many readers wrote in, suggesting wonderful names for their little bundle of joy. Ultimately, we named him Christopher John (I suppose CJ would be a bit forward for the Regency era, wouldn't it?).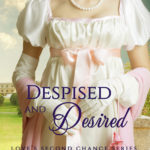 In honor of the lost lives of Leopold and Kenneth in Despised & Desired, Ellie and Frederick chose those very names for their firstborn son, calling him Leo for short.
Although we have barely met those two little boys (do you remember Christopher's short appearance in Despised & Desired?), they have come to feel even more real once they've received their names.
Then what about Anna's daughter?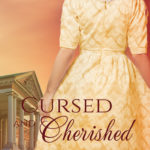 Anna and Edmond have a little girl at the end of Cursed & Cherished. A little girl I haven't yet chosen a name for, but she deserves one. Especially since she'll have a short appearance in the sixth novel of the series, Betrayed & Blessed, Tristan's long-awaited story.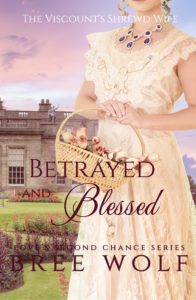 So, please help me name her! What suggestions do you have? Comment below, and be creative!
As a reminder, her parents are
Edmond & Anna Dunsworth, Duke & Duchess of Cromwell.
And their daughter is
Lady [first name], [middle name]
Please fill in the blanks.
(Although the middle name is rarely used in a story, it still completes the picture. So feel free to add one in your suggestions.)
This ought to be fun. I cannot wait to read your suggestions. Although naming a child is truly wonderful, coming up with wonderful names is sometimes quite difficult.
As a little thank-you for your help, the reader whose name will ultimately be chosen for Anna and Edmond's little bundle of joy will have book six, Betrayed & Blessed - The Viscount's Shrewd Wife, dedicated to her or him.
So, please help me out! What are your ideas?
Oh, yes, here are the rules:
Anyone can participate.
This contest will be open until July 4, 2017.
If a name is suggested more than once, the reader who suggested the name first will receive the dedication.
Good luck to you!
Pre-order Betrayed & Blessed - The Viscount's Shrewd Wife NOW at a majorly discounted price!
Update: July 24, 2017
In all honesty, I've never had a better idea than holding this little contest. The enormous response I received from all my wonderful readers was truly overwhelming. Thank you all for being so dedicated! You make this journey a truly exhilarating one! I will most definitely consult you when the next naming dilemma arises...and I'm certain it will.
To make a long story short (which is not easy for me because I tend to prattle on), the name my team and me finally chose was
Etta Grace
suggested by
Anna Jimenez.
We loved it right away as well as her reasons for suggesting it. Read for yourselves:
"How about Lady Etta Grace? Why? Because Anna was thinking of her friend Henrietta after she had the baby and because she doesn't go along with conventional ways and is in fact overseeing the booking for the estate. It just fits as "Etta" actually means "estate manager", which is a strong name for a daughter of a warrior princess,  and "Grace" because the name Anna means full of grace or gracious one. "
When I close my eyes, I can see the little red-headed girl running through the fields, her dress torn and her knees scraped as she seeks out adventure. And while her parents might lecture her on proper behavior - forgetting that they themselves have often acted only according to their own whims and fancies - she manages to wrap them around her little finger with her natural charm, far from intimidated to bend - or rather ignore - the rules yet again and follow the call of adventure once more.
Stay tuned, and maybe down the line, we shall see her again, all grown up and seeking out the greatest adventure of them all: love.
Save
Save
Save
Save
Please follow and like me: