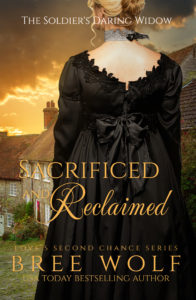 She will fight to reclaim his heart.
Will he fight to reclaim her?
EDWARD DUNNING had it all: a beautiful home, two adorable childern and a wife who was his other half. Only he wanted more. He wanted more than an ordinary life.
So he went to war.
And did not return.
In the blink of an eye, MEAGAN DUNNING lost her husband, her future, her dreams. Until, in the very moment when she found her way back into life, her husband−presumed dead for over two years−shows up on her doorstep unexpectedly.
However, although he returns from the war after all, the battle for his soul is only just beginning.
Will Meagan be able to reclaim his heart? Or has Edward given up hope long ago?
Love's Second Chance Series:
#1 Forgotten & Remembered - The Duke's Late Wife
#2 Cursed & Cherished - The Duke's Wilful Wife
#3 Despised & Desired - The Marquess' Passionate Wife
#4 Abandoned & Protected - The Marquis' Tenacious Wife
#5 Ruined & Redeemed - The Earl's Fallen Wife
#6 Betrayed & Blessed - The Viscount's Shrewd Wife
#7 Deceived & Honoured - The Baron's Vexing Wife (coming April 24, 2018)
#7.5 Sacrificed & Reclaimed- The Soldier's Daring Widow (coming May 29, 2018)