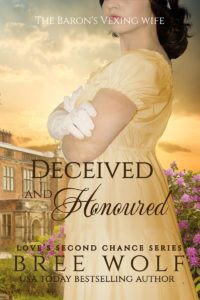 She is determined to marry an earl.
If only he weren't only a baron.
LADY MADELEINE, daughter to the Earl of Carlton, has vowed not to marry below the rank of an earl. Using her clever wit and fierce determination, she has passed up several marriage offers as well as successfully sidestepped the occasional scandal, orchestrated by a suitor trying to trap her into marriage.
Setting her sights on the Earl of Townsend - handsome, rich AND an earl - he is everything she desires in a husband.
Until one night when her plans go horribly wrong, and she is compromised by the wrong man.
DEREK MCNIGHT, BARON AINSWORTH, is a self-made man. As a farmer's son, he gained glory in the war and was given a run-down barony for his service to the crown. Now, he only wishes to keep a safe distance from the peers he despises and rebuild his estate to see his family and tenants well settled.
Until one night when he sees a raven-haired lady on the arm of a man from his past.
Determined to protect her, he takes a wrong step, dooming them both.
Will Madeline ever be able to see past his title? Can Derek come to love a woman of high standing? Or will they forever be trapped in a marriage that only serves to make them miserable?

Love's Second Chance Series:
#1 Forgotten & Remembered - The Duke's Late Wife
#2 Cursed & Cherished - The Duke's Wilful Wife
#3 Despised & Desired - The Marquess' Passionate Wife
#4 Abandoned & Protected - The Marquis' Tenacious Wife
#5 Ruined & Redeemed - The Earl's Fallen Wife
#6 Betrayed & Blessed - The Viscount's Shrewd Wife
#7 Deceived & Honoured - The Baron's Vexing Wife (coming April 24, 2018)
#7.5 Sacrificed & Reclaimed- The Soldier's Daring Widow (coming May 29, 2018)